Our  top meditation apps for iphone users to help anxiety and insomnia.
Meditation and Mindfulness were buzzwords even before Covid19. Now, with stress and anxiety at all-time highs, many are in need of ways to find stress relief, especially during times of quarantine. Instead of scrolling through social media, or playing games, perhaps give a meditation app a try? Many only require as little as two minutes of your time but could provide endless benefit. According to an article in Forbes magazine, meditation can help with everything from stress and depression, preserving the aging brain, and even help with addiction.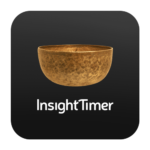 iPhone rating: 4.9 stars
Price: Free with in app purchase options
If you are looking for a free non-committal meditation app, this is your go-to. Insight Timer app offers the most options without having to pay for a subscription. Insight begins by asking you what you want most from the app with options such as stress, anxiety, work and even boosting self esteem. 
The app offers everything from guided meditations, to entire lecture-based courses tackling larger self-help topics such as "Overcoming Obsessive Thinking", to a business-themed 10-day series "Mindset Reset, Less Burnout, More Success."
This meditation and mindfulness app has daily uploads proving a vast array of free material.
iPhone App Store Review: "I initially downloaded this app for the timer – a nice variety of authentic sounding bowls, blocks, and chimes. Fast forward four years and I'm continually blown away by the incredible amount and quality of the guided meditation content now available here! All for free!! With new recordings arriving each day"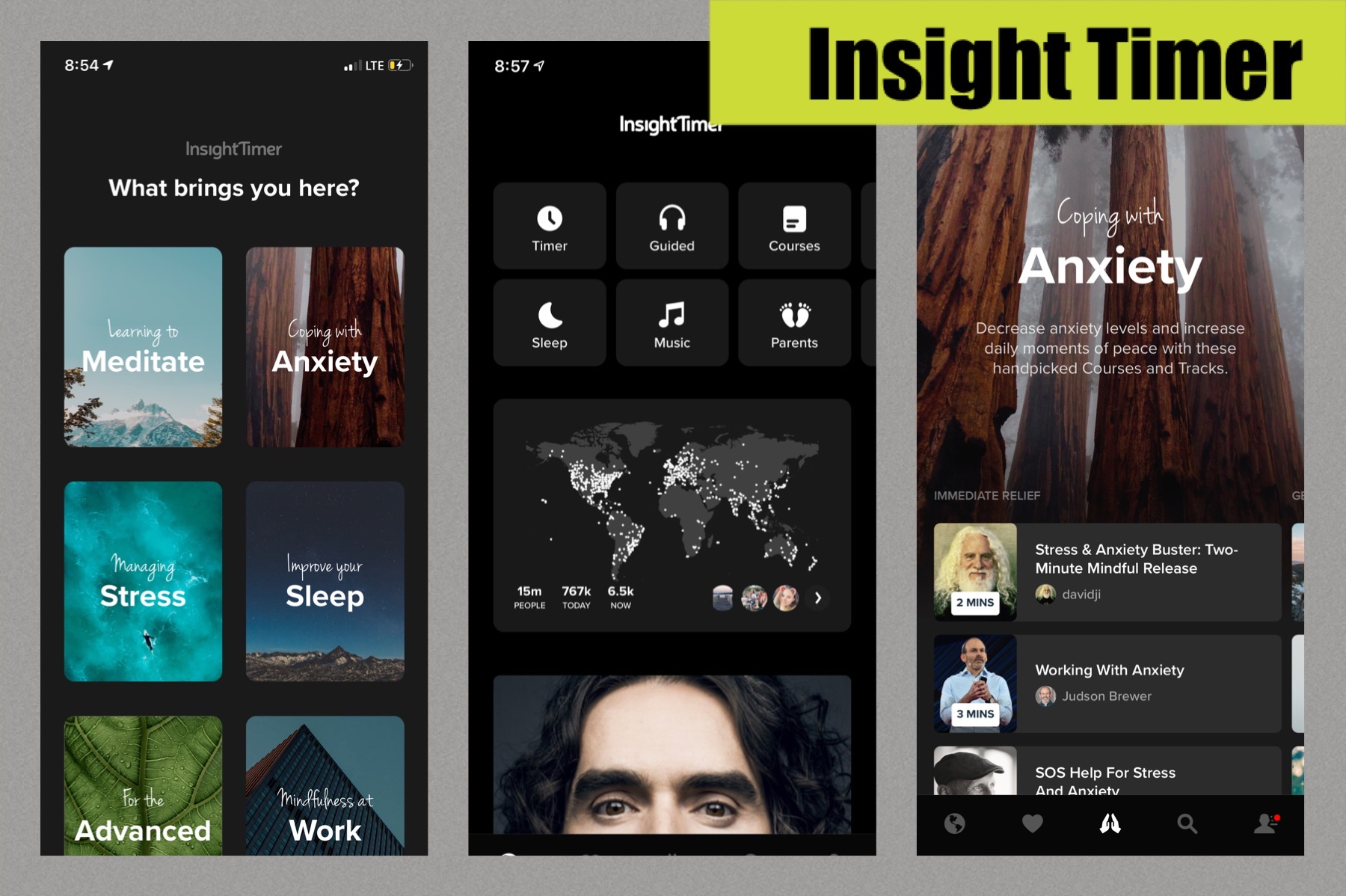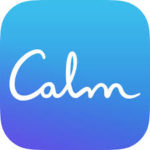 iPhone rating: 4.8 Stars
Price: Free 7 day trail / $70 annually 
This app is great for people who have never tried meditation before. This meditation app has a mood tracker that begins your lesson by asking you how you are feeling at that moment and suggests meditation programs for you to improve or build on that mood. Meditations are as short as 10 minutes to over 20 minutes long. Each meditation guides you through how to sit, how to target muscles for relaxation and how to breathe.
Calm also lets you specify what type of meditation you are in need of such as a "90 Second meditation to Calm your Anger" and programs such as "Train your Mind" to improve mental fitness. 
Calm has a "Calm Kids" category that provides a few guided meditations just for children using the voices from Thomas the Train and familiar fairytale characters such as sleeping beauty and more. There are also guided "Sleep Stories" for children to help them calm and ready for slumber.
For adults with insomnia, Calm offers a section called "Sleep Stories." This is available along with guided stretches and breathing exercises to help you relax for bedtime.
iPhone App Store Review: I am loving Calm. It is perfect for where I am right now. I love the 10 minute daily calm. I look forward to the new topic each day and 10 minutes is a very manageable amount of time even in my busy schedule. I am working through the 21 day beginning meditation series as well.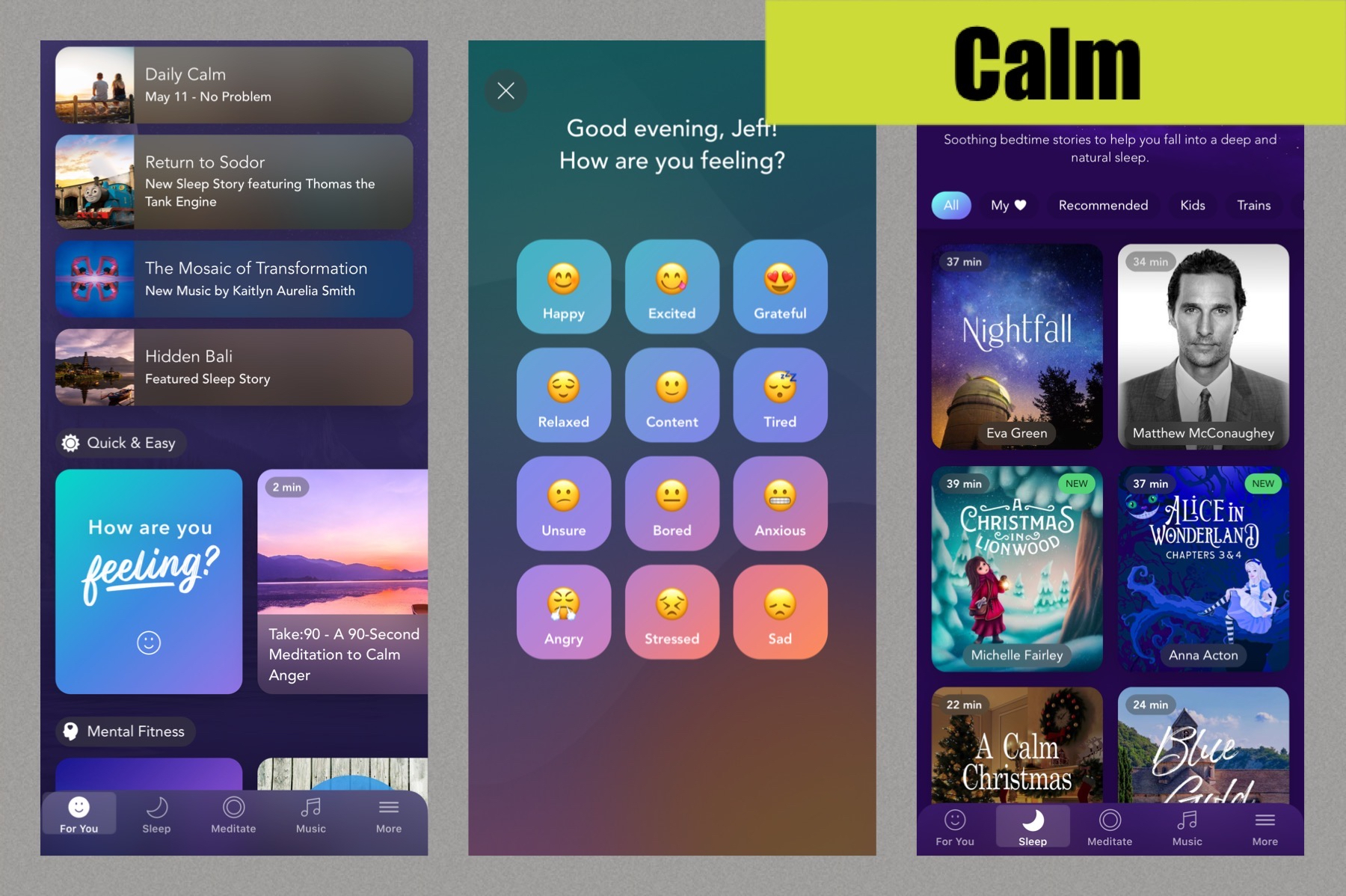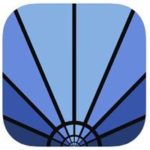 iPhone rating: 4.9 Stars
Price: Free to begin with, option to subscribe to unlock further programs
This meditation app is also great for beginners.  It caters more to the deep thinker and introspective mind as it investigates the theory behind meditation through educational discussions in addition to the guided meditations.
It is created by Sam Harris, a neuroscientist, philosopher, and New York Times best-selling author—as he explores the practice of meditation and examines the theory behind it.
Waking Up offers 5 meditations in its introductory course and a total of 50 in its subscription level course. It also includes two free short meditations for children which focuses on mindfulness.
iPhone App Store Review: "This app is an incredible app that goes a lot farther than just helping you meditate. It can change the way you think and process the world. The guided meditation courses will teach you all you need to know to meditate on your own but the conversation topics are what really blew me away and challenged my thinking the most."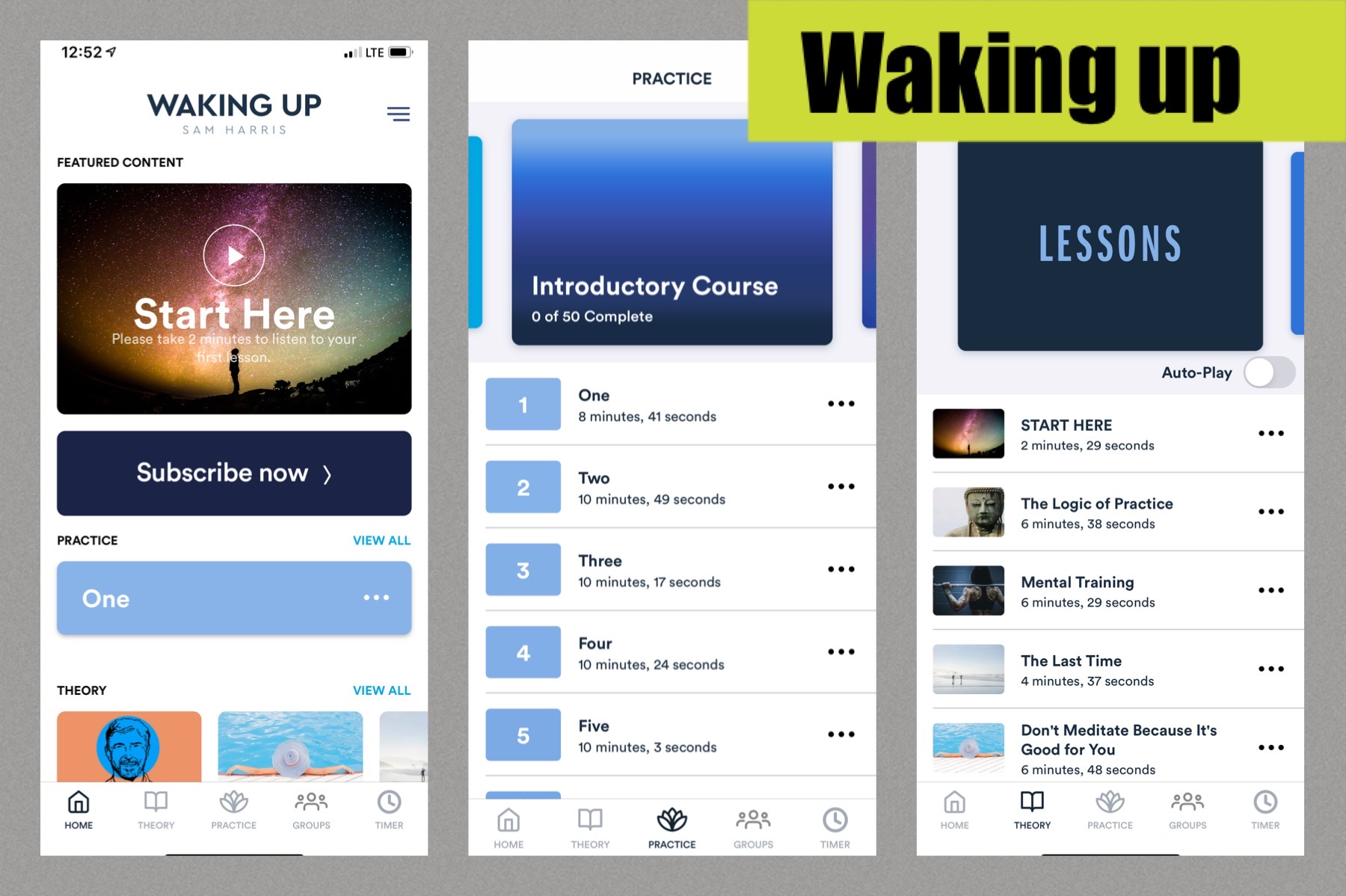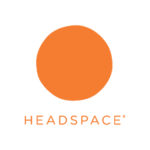 iPhone rating: 4.9 Stars
Price: Free to begin with, in-app purchases starting at $12.99
This meditation app is great for beginners looking to improve not only their moods, but their mindfulness as well.  Headspace starts from the beginning by asking you to choose what you want from the app, ie "managing anxiety and stress, sleeping soundly, being more active, or even trying something new. It then prompts you as to whether you want to develop life-long skills or if you just want to test the waters with select courses. This app is different from the others mentioned in that it provides movement meditation options with workout and yoga videos to help you "move through" the stress or anxiety.
iPhone App Store Review: "I started meditating with Headspace 5 months ago. I needed help with managing my lifelong struggle with anxiety, issues with sleeping, and getting started with meditation. I really liked that they offered short 3 or 5 min meditations — I did them throughout the day at home and in my office"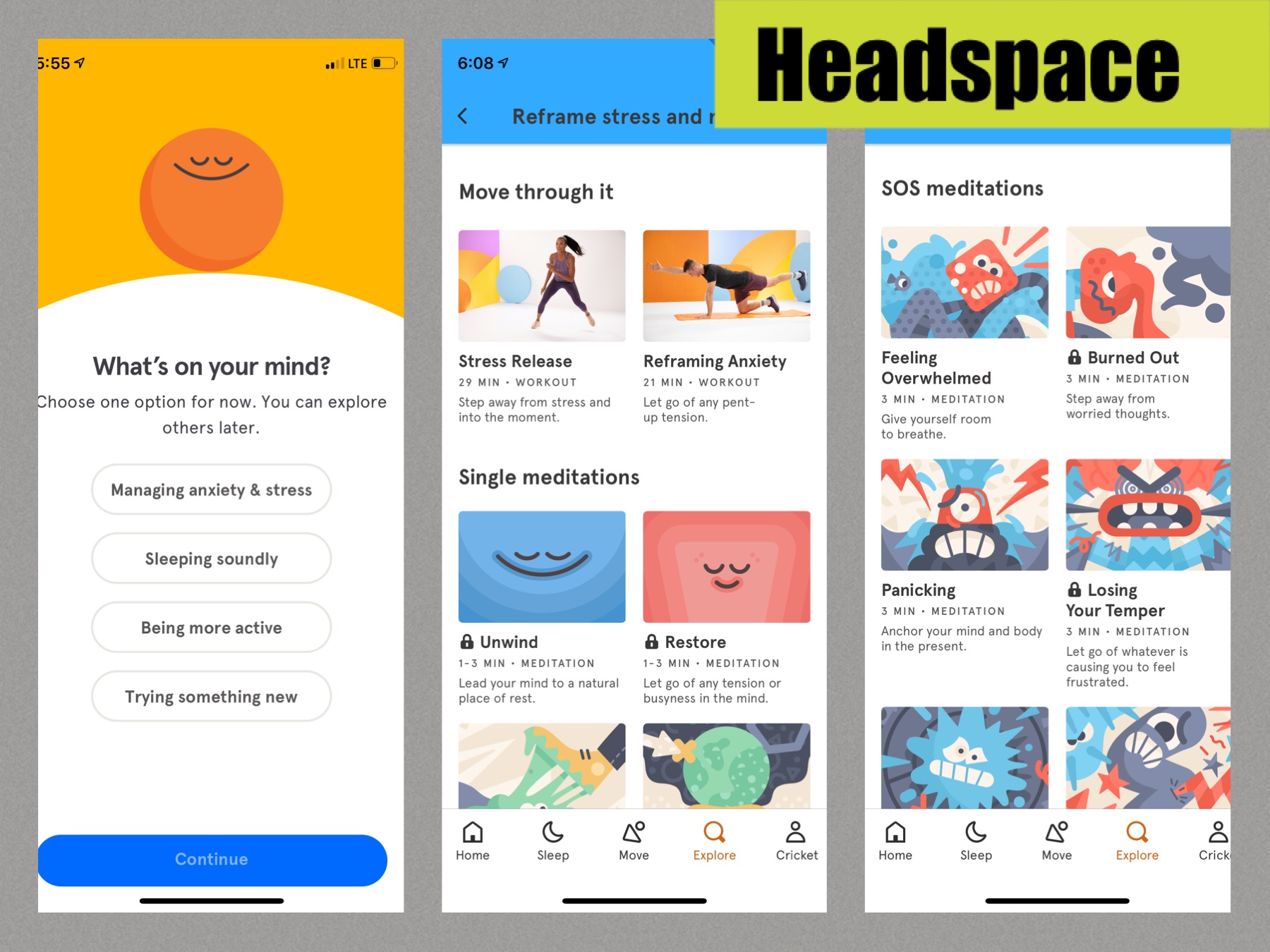 https://www.thebrecklife.com/creating-home-meditation-space.php